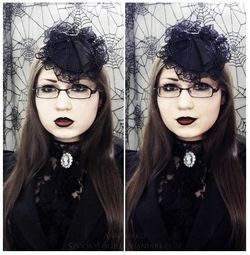 Corsets, lace, pearls, music.
Unintentional cuteness, millinery skills, head full of song lyrics and foreign words.
Memento mori and the macabre.
You can call me
Anna
.
A Finnish milliner blogging alternative fashion, beautiful headwear, macabre artwork, random things and the occasional Michael Jackson.
I also run a sideblog dedicated solely to my millinery work.
You can check out the blog by clicking here.
Sneak peek of the cocktail hat I finished today. It has polka dot veil and pearls behind the roses :3 I might put it up for sale, I'm not quite sure if I can part with it!