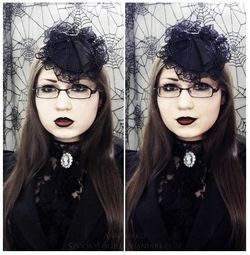 Corsets, lace, pearls, music.
Unintentional cuteness, millinery skills, head full of song lyrics and foreign words.
Memento mori and the macabre.
You can call me
Anna
.
A Finnish milliner living in London blogging alternative fashion, beautiful headwear, macabre artwork, random things and the occasional Michael Jackson.
I also run a store (
inactive at the moment
) called Cobweb Millinery which specializes in alternative headwear.
You can check out the store on Etsy or by clicking here.