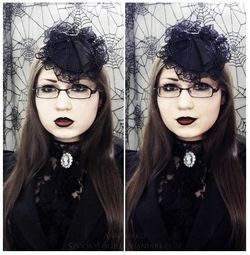 Corsets, fishnets, fake dreads, music.
Unintentional cuteness, semi-artistic skills, head full of song lyrics and foreign words.
Memento mori and the macabre.
You can call me
Anna
.
A Finnish millinery student blogging alternative fashion, beautiful headwear, macabre artwork, random things and the occasional Michael Jackson.
I also run a store called Cobweb Millinery which specializes in alternative headwear.
You can check out the store on Etsy or by clicking here.
If you have trouble navigating through the pages, click the little arrows next to the numbers at the bottom of this box!
Falcore (Photo: Krystle Dawn)
That Adam's apple. On Falcore. I can't even.
Yes, I freaking love Adam's apples, I know it's weird but I just do. 
fnqodknqpnaonoqtoopretty
I think I'll just sit here and reminisce the time he hugged me.
(via fyeahfalcoretbm)
The Birthday Massacre in June 2012
(Source: reybee.com)
Sneak previews of the songs from the upcoming album Hide & Seek by The Birthday Massacre.
(Source: spookyloop)
Another picture taken after the The Birthday Massacre gig in 2009! This time I'm with Michael Falcore, he was super nice so can you blame me for squeezing him that tight?
A bad photo of the wonderful memories from one of the best days of my life!
The Birthday Massacre = Love